Four seasons at the fish deli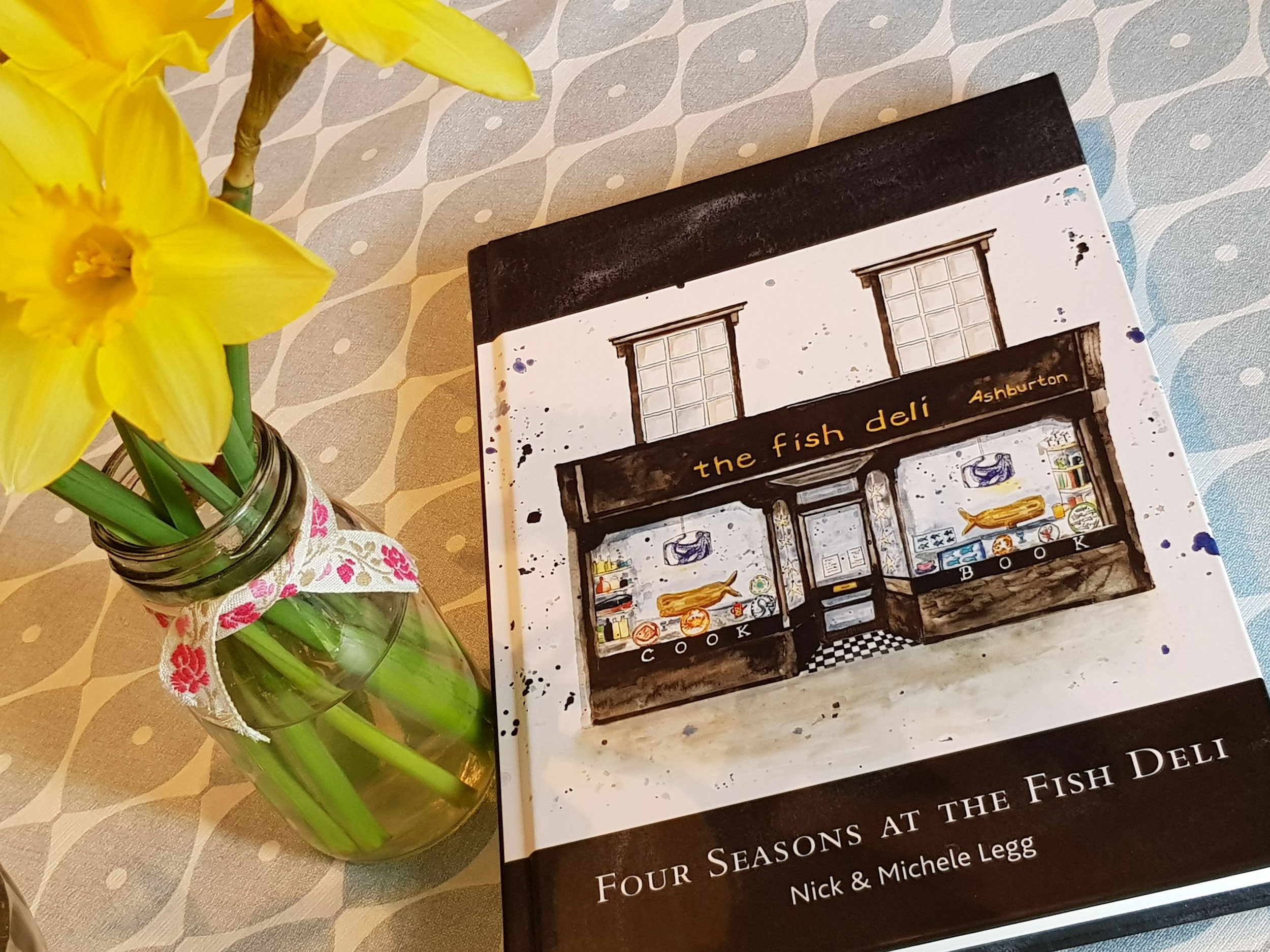 There's always room for another cookbook on your shelf right? Especially one as visually appealing as this one. FOUR SEASONS AT THE FISH DELI is a publication by Nick and Michele Legg from the Ashburton Fish Deli, an amazing delicatessen specialising in … yes you've guessed it … all things fishy!
As a self confessed stationery geek this book appealed to me as soon as I picked it up as it's printed on satisfyingly thick matt paper (responsibly sourced of course), uses an easy to read font and is beautifully illustrated throughout by ALICE CLEARY – a very talented young artist. The decision not to show photographs of the finished recipes was a conscious and clever one as too often you spend hours creating a masterpiece only to feel a little deflated when it looks nothing like the picture!
Following an introduction which tells the story of the fish deli and highlights "fishues" such as sustainability and seasonality, the book is split into four sections each representing one of the seasons. A list of fish you can expect to find in Devon at that time of year is helpfully provided at the start of each section. They also provide a bank of basic recipes including fish stock, mayonnaise and the delightfully named "herby gunk".
Whatever your tastes or skill level you will certainly find something in the book to try your hand at. Simpler recipes such as Smoked Mackerel Pate, Mussels with Devon Cider and Roasted Cod in Pancetta rub shoulders with more intricate dishes such as Braised Squid with a Pine Nut and Artichoke Stuffing and Salt Cod Arancini, and it's generous of them to include recipes for some of the popular products you can buy in the deli. I like that they include recipes for fish that are common in our waters but not necessarily on our plates, such as spider crab, octopus and cuttlefish, and I for one will certainly make more of an effort to experiment with these in the future.
I tried out the Red Mullet, Sundried Tomato & Basil fishcakes which, due to the detailed and easy to follow instructions, were relatively easy to make – although I was quite glad there wasn't a photo of theirs as mine ended up a little rustic!! However, they tasted amazing. I also whipped up a bowl of the Smoked Salmon and Dill Pate as having made this many times I have never cooked the smoked salmon beforehand, and I must admit it did add a certain depth of flavour usually missing from mine. Apparently two of the deli's regular customers serve this pate with home-made yorkshire puddings so who was I to disagree ….
Here's the recipe (produced by kind permission of Michele):
Smoked Salmon Pate Ingredients
250g smoked salmon pieces
125g butter
125 cream cheese
1 medium lemon
50g creme fraiche
5 sprigs of dill
Smoked Salmon Pate Method
Zest and juice the lemon. Remove the stems from the dill and chop finely, reserving a little for decoration.
Melt the butter in a thick bottomed saucepan over a medium heat. When it's bubbling hot add the salmon and cook until just turning opaque – this will take between 2 and 3 minutes.
Remove from the heat, and while still warm, add the cream cheese and mix in well. Allow to cool.
When cooled add the creme fraiche (this helps to loosen the mix). Then add the dill and lemon juice. Mix in well.
Chill thoroughly and leave to set in the fridge for a few hours.
Serve with a little sprinkling of dill and lemon zest on top (I used chives).