Salted caramel & banana blondies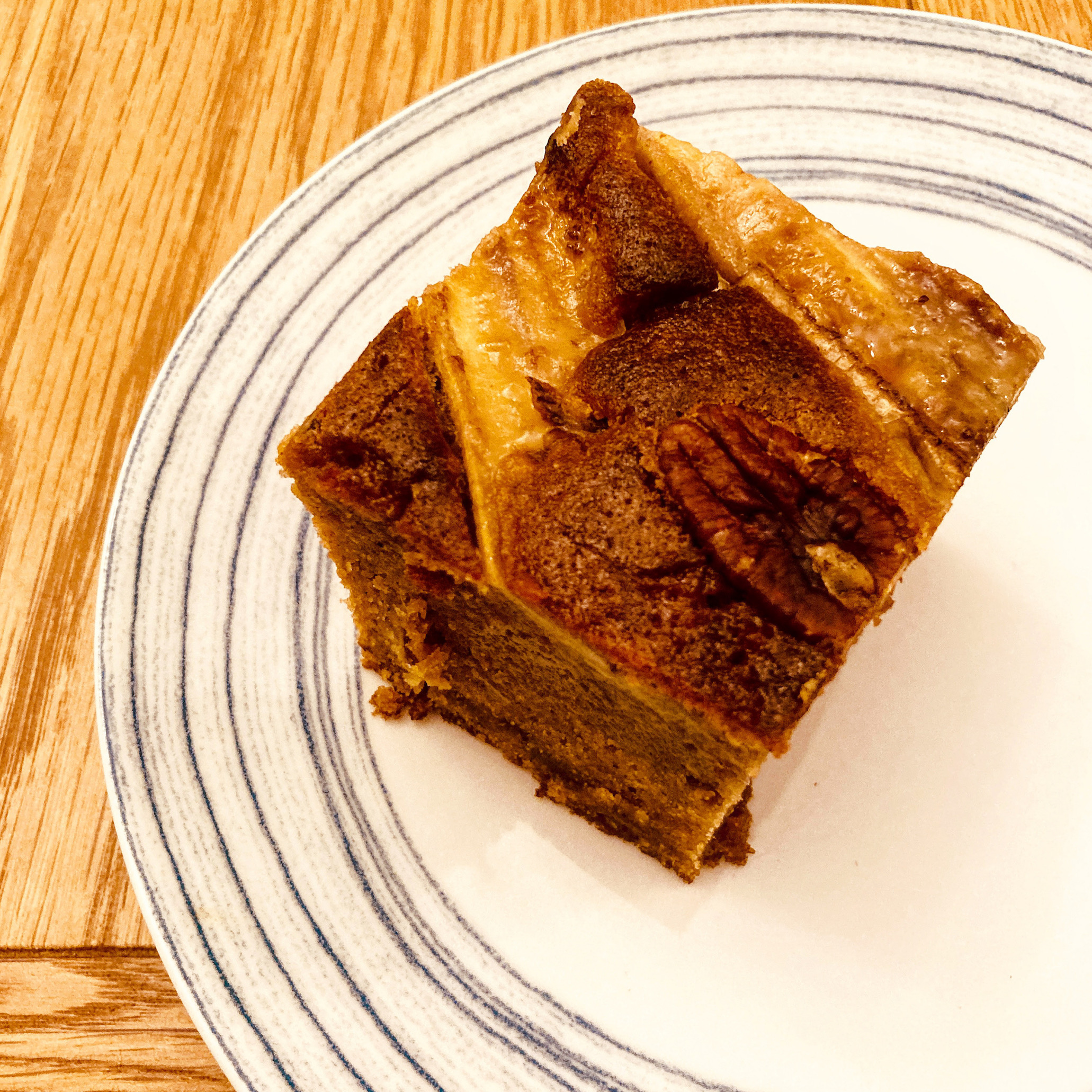 This is a great mash up two wonderful flavours, banana and caramel. They compliment each other so well, making these blondies rather morish ! 
Salted caramel & banana blondies – Ingredients
75g toasted pecan nuts
175g unsalted butter
125g chopped white chocolate
4 ripe bananas
3 large eggs – beaten
1½ teaspoon vanilla extract
175g dark brown sugar
175g plain flour
½ teaspoon baking powder
½ teaspoon sea salt
3 teaspoon salted caramel sauce plus a little extra- I used Joe and Seph's
 Salted caramel & banana blondies – Ingredients
Preheat the oven to 180C, Fan 160C, Gas mark 5 and line a 20cm square tin with baking paper.
Chop all but a few pecans (these will be used for decoration later).
Melt the butter gently in a saucepan, then let it bubble till it turns brown and smells nutty.
Add the white chocolate to a heat proof mixing bowl, add the hot butter and mix till the chocolate has melted. Set aside for 10 mins until cool. 
In another bowl mash 2 bananas, then mix in the eggs, sugar and vanilla. 
Add the cooled chocolate and butter mix to the banana mixture, stir and sift in the flour, baking powder and salt. 
Fold in until just mixed adding the chopped pecans. 
Pour into the lined tin. Dot the top with a few small dollops of caramel sauce. 
Slice the remaining 2 bananas lengthways, pushing the them gently on top on the mixed, press the few remaining whole pecans into the gaps. 
Bake for 35-45 mins. It should have just a little wobble as it comes out of the oven to ensure its still a bit fudgy in the middle.  
When it's removed from the oven you can brush the top with a little more caramel sauce for extra stickiness !